It's simple—use live chat.
One of the biggest benefits of live chat is that it allows you to talk directly to your customers in real-time (pretty much what it says on the box)—but there's so much more to live chat than providing quick customer support. Live chat is a must-have tool for your business, and this blog post will cover exactly why that is. Here's how live chat can positively impact your business.
Increased Sales through your website!
It's been proven that websites with chat support reported an increase in revenue (19%), as well as conversions (38%). The same report states that customers that use live chat are three times more likely to make purchases versus those who do not.
While traditional lead generation methods usually target only certain parts of the sales funnel, live chat generates leads throughout the entire customer journey. When browsing your website, prospects will have questions about your product or service and live chat gives you the chance to hold your buyers' by the hand, from market awareness and pre-sales to post-sales support and customer retention. 17% cheaper than a phone call, it's like having a sales assistant on standby—you can answer them immediately without having to spend money on costly telephone calls and long emails that may be too late—and this makes live chat so powerful. Live chat will help you turn website visitors into qualified leads.
Availability builds trust!
63% of consumers are more likely to return to a website that offers live chat. Why? Because responding faster = more leads. It's just common sense.
Consumers' are naturally dubious about buying things online. It is human nature. But with live chat, you can have a direct conversation with your prospect, allowing you to give quick answers to questions about your products or services. It also helps you solve problems faster and it assures your customers that you are there when they need you. This is a very effective recipe for improving customer service and building loyalty and trust. As the key currency between the business and its customer and as the secret sauce that can make customers take the leap, trust keeps customers coming back for more. By having a live chat on your website, not only will it make them happy, but it will have a big impact on their potential to convert. Without live chat, you will have to work a lot harder to build trust with your website visitors.
Better customer satisfaction!
80% of businesses believe they offer superior customer service, but only 8% of customers think the same businesses deliver "superior" customer service.
The success of any business depends on one important factor: customer satisfaction. With live chat come all kinds of valuable data about your customers. Not only does it allow you to engage in actual human conversation, but it allows you to flesh out your buyer's persona to gain a deeper understanding of their needs, wants, and behaviour and pain points, transforming them into leads. What better way to learn about your customers and your services and products than to talk to them? And customers love it just as much. At 73%, chat offers the highest satisfaction levels for any customer service channel.
Tracks your performance!
But live chat doesn't just positively impact sales, support service and customer satisfaction. The benefits of live chat software are far-reaching. In the race to digitally transform, businesses are looking to go paperless and live chat software supports that goal. And it also helps you keep track of your performance.
Rich with information, chat sessions allow you to harvest valuable data about the speed of your responses, helping you work toward instantaneous service. With inbuilt analytics, chat software attracts visitors the moment they enter your website. It monitors sessions, conducts quality control, and gives you reports on usage, performance and customer satisfaction—all automatically and in real-time. In addition, you get total visibility on the metrics that matter most.
From engaging prospects in real time, customising messages, shortening sales funnels, and improving lead nurturing to increasing sales, in today's digital world, live chat is the best communication platform to offer a real-time prompt response to customers. It has the highest customer satisfaction levels at 73%, as compared to 61% for email support, and only 44% for traditional phone support. With 63% of consumers more likely to return to a website that offers live chat—can your business afford not to have it?
Set up live chat with Paarl Web Design
There are customers waiting on your site, right now.
Thankfully, there are tons of live chat software available - but you need to find one that fits your needs. Some top ones are Formilla, Olark and Livechatinc. While Clickdesk includes voice and video chat, Olark helps you customise your chat messages by seeing which page the buyers have viewed, and pulling up past conversations if they chatted before.
Empowering businesses, we want to help your website attract traffic, and can help you find the right live chat software to suit your business needs. Whether you require a website, SEO or live chat, we are the right people to talk to. To find out more about how we can help you attract traffic and boost your sales, contact us today.
Top Live Chat Software Solutions
LiveChat is a simple and beautifully designed tool for online communication between a company and its customers. Now your clients can contact you faster and easier than ever before.
LiveChat offers a built-in ticketing system, offline messages, canned responses, customer message preview, exportable reports and SSL encryption.
It's possible to fully customize LiveChat widget with CSS styles. The customization can differ for domains and pages. It comes with many native integrations like Wordpress, Shopify, AdWords, Mailchimp or Facebook. It also allows you to build your own integrations, as you get access to powerful API.
LiveChat support is available 24/7 so you can reach them at any time you need to.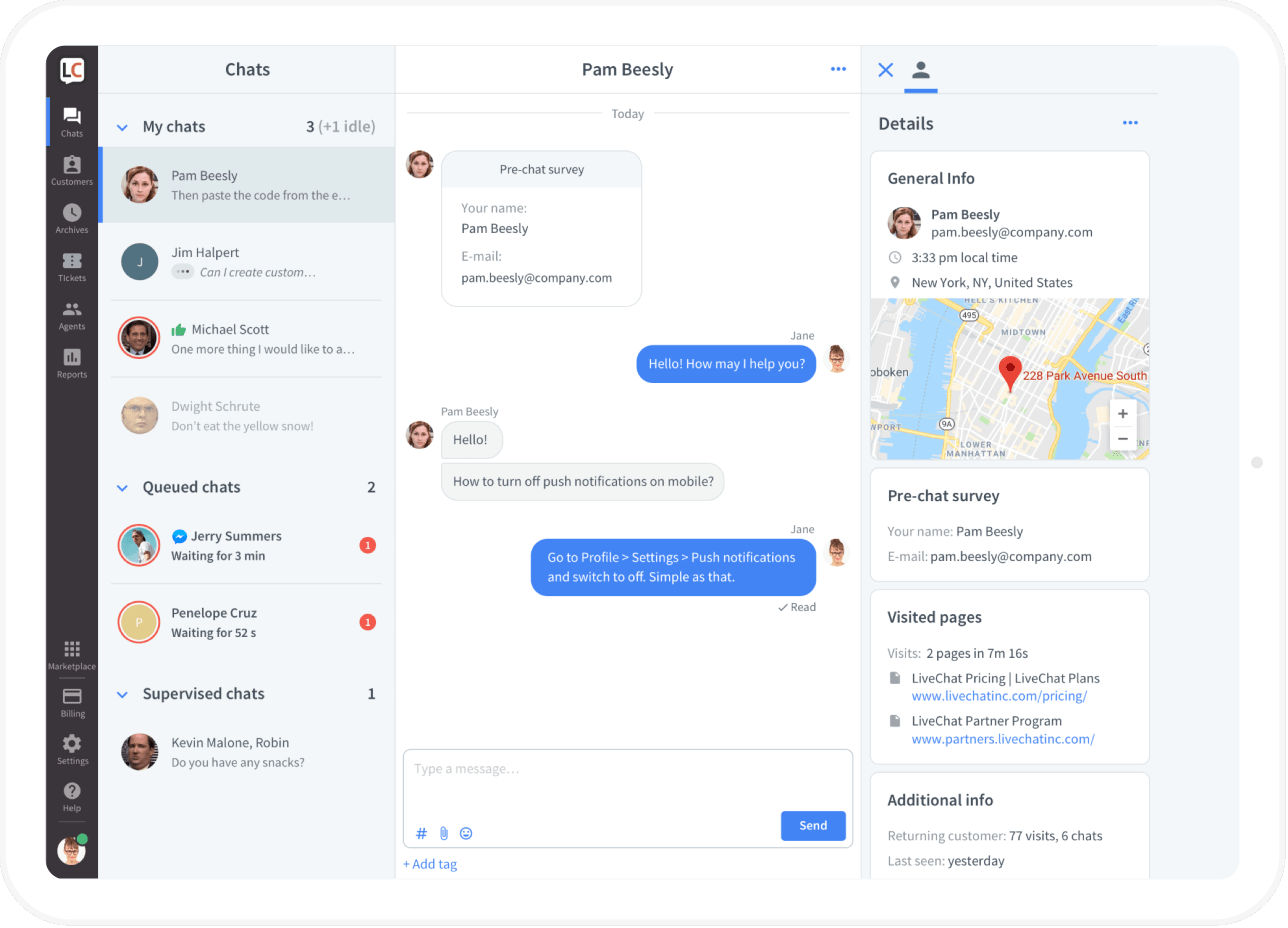 ---
Sales & support staff can answer pre-sales questions, qualify leads, view customer data, and more. Formilla Live Chat is customizable to match your needs and is packed full of features.
Enhance the customer experience with live chat. It's not just a customer support tool either — live chat is one of the best ways to convert website visitors into paying customers.
Real-time visitor monitoring. View your website traffic in real-time, and what country and region your visitors are located. See which webpages they've visited, how long they've been on your site, and what browser and operating system they're using. Request chats with visitors on your website!